The medicine cabinets of people with type 2 diabetes don't have much space. Most people still produce at least some of their own insulin, a hormone that converts sugar into energy. But they often don't make enough to overcome the body's resistance to the hormone.
While dieting and exercise can lower blood sugar—so the insulin they do make is more effective—sometimes that's not enough.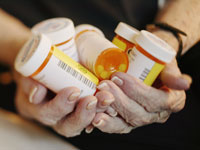 That's where a complex variety of drugs come in. These drugs work in different ways to help lower blood sugar to safe levels and are often more effective when used in combinations.
Among adults with diabetes, 57% take oral medication and 12% take both insulin and oral medication, according to the Centers for Disease Control and Prevention.
Most people start with metformin
The first drug people take is usually
metformin
, an oral medication that is found in the brand-name drugs Glucophage and Glucophage XR. As time goes on and diabetes progresses (natural insulin production can decline over time), their doctor often adds another type of oral medication, insulin, or some other injectable drug to the regimen.
Metformin is a biguanide that decreases the liver's excess glucose production. If it's not controlling blood sugar on its own, doctors might add a
sulfonylurea
, which stimulates the pancreas to make more insulin. Or they might add a
thiazolidinedione
, which increases the body's sensitivity to insulin.
Now that multidrug therapy is common practice among endocrinologists, more drugs are available in a single pill. For example, metformin has been combined with sulfonylureas (called Metaglip and Glucovance) and sitagliptin (called Janumet). In addition, doctors might consider adding the injectable medications
Byetta (exenatide)
or Symlin (pramlintide acetate), to a patient's metformin, says Dace Trence, MD, an endocrinologist and director of the Diabetes Care Center at the University of Washington Medical Center in Seattle.
"The thinking is that if you treat people with two drugs instead of one, you can get down to the targeted levels quicker and it stays down there longer," said Dr. Trence.