Candace Cameron Bure, 34, best known for her role as DJ Tanner on the sitcom Full House, struggled with bulimia after the show's eight-year run ended. Moving from California to Montreal to live with her husband, hockey player Valeri Bure, was a life-altering experience, and she sought comfort and fulfillment in food. Now, 15 years later, Cameron Bure has a healthy relationship with food and fitness, and has never felt better. Her story and inspirational strategies from her new book, Reshaping It All: Motivation for Physical and Spiritual Fitness, stress the importance of spirituality and understanding to living a well-rounded, healthy life. Today she lives in Los Angeles with Valeri and their three children, Natasha, Lev, and Maksim. She stars in Make It or Break It, whose third season premiered March 28. She also appears alongside David James Elliott in the upcoming TV film Truth Be Told, premiering April 16 on Fox.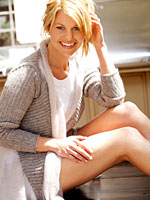 Struggling with bulimia
I didn't have an eating disorder when I was on Full House. My unhealthy relationship with food had nothing to do with physical insecurities, but emotional issues I was struggling with after getting married, moving to a new city, and no longer working. Almost every element of my life had radically changed. I was happy to be a newlywed and to be at home, but my husband traveled a lot and I found myself very lonely at times. I turned to food as a comforter. Like anyone struggling with an eating disorder, it easily took over. I felt out of control, like I wasn't the one making choices. At my worst, binging and purging felt like an automatic response to the emotions I was feeling. Somehow, it made me feel like I was able to regain control.
Overcoming her eating disorder
I didn't go through treatment to get help, but experienced two major turning points before I began to change my ways. The first time, I was caught purging. The shame and humiliation of being caught forced me to quit. It was such an embarrassing thing to go through and really stopped me in my tracks. I felt like I was dishonoring and displeasing the people around me. I didn't necessarily understand how unhealthy my actions were. A few years later, I had a relapse. That was the actual turning point for me because I finally realized that I was using food as a comforter. Every time something was tough in my life, I was turning to food instead of God. When my relationship with God became strong, I realized how I was filling voids in my life with food.